Settlers Green readies for new stores, eateries and expanding favorites as it continues to celebrate its 35th anniversary this spring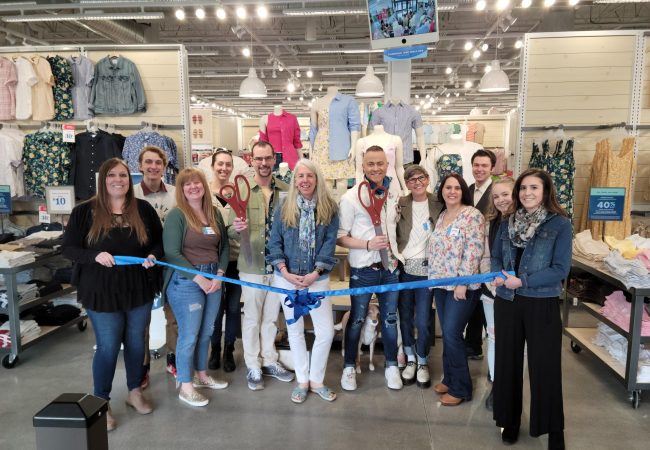 Back to all articles
Settlers Green continues its shopping experience evolution with a series of new stores and eateries, expanding favorites, new public art and plenty of special events to celebrate its 35th anniversary leading up to the grand opening of Market Basket.
It all starts with Old Navy Outlet, which will be relocating and expanding to a new location in Suite H20, set to open on Friday, March 11. In addition to Old Navy, fashion favorite JCrew Factory Store, a Settlers Green tenant since the center opened in 1988, will be relocating and expanding to neighboring Suite A20 this spring. JCrew will add its highly popular Crewcuts kids' collection. Meanwhile, staples childrenswear brand, Carter's, will undergo a remodel this spring that will modernize the store with new signage and interior updates including fixtures and lighting.
"It's great to have so much buzz around our childrenswear offerings, it is just one of the many shopping experiences that we're expanding upon this year," said Marketing Director Laura Lemieux. "Old Navy and Carter's bring such value to our shopping families and Crewcuts will add one more layer to that experience."
Settlers Green continues to double down on its mission to bring more outdoor brands to North Conway's burgeoning outdoor recreation market by adding Swix and Merrell. Swix is world famous for its ski waxes, but also develops equipment including cross country, alpine and backcountry ski poles along with an extensive line of outerwear including on-snow apparel, packs and bags, and athleticwear. Swix at Settlers Green will be the brand's first US outlet store, opening at Suite A14. Popular outdoor footwear brand, Merrell, will open at Suite H10, bringing a variety of footwear options including its marquee hiking boots the Moab hiking boot and Jungle Moc. Swix and Merrell are set to open by Memorial Day Weekend.
"Our leasing team is doing such a great job with bringing new outdoor brands to Settlers Green," Lemieux said. "We're just footsteps from the White Mountain National Forest and outdoor recreation in New Hampshire continues to grow exponentially. This is a huge selling point for brands and one of the reasons why brands like Swix, along with British brands Regatta Great Outdoors and Craghoppers have chosen us as their flagship US stores."
Rounding out the full shopping experience, Boba Beach Bubble Tea out of Wolfeboro, New Hampshire, has plans to open a food truck at Settlers Green. Bubble tea is a Taiwanese drink made by blending a tea base with milk, fruit and fruit juices, then adding tapioca pearls that sit at the bottom. Thirsty shoppers can enjoy dozens of signature bubble tea drink creations that Boba Beach offers when it opens in the Courtyard in May.
With over a dozen pieces of public art to view along its Art Walk, Settlers Green will introduce a new piece in April with a sculpture titled Self-Reflection by Michael Alfano. It will be Alfano's second public art piece at Settlers Green, with the other being The Red Fox, located near Customer Service. There will be a Ribbon Cutting Ceremony for Self-Reflection in the garden of the Community Labyrinth next to Barley & Salt on Thursday, April 20. The public is welcome to join the ceremony starting at 11 a.m.
There are also a few other 35th anniversary events going on at Settlers Green including a St. Patrick's Day Scavenger Hunt where 35 leprechauns will be hidden around Settlers Green for shoppers to find and turn into Customer Service for a $35 Settlers Green Gift Card. There is also an on-going sweepstakes, where shoppers can head to settlersgreen.com/grocery-giveaway to be entered to win free groceries for a year to Market Basket. There will be one grand prize of free groceries for a year along with two runner up prizes consisting of a $2000 Market Basket shopping spree and a $1000 Market Basket shopping spree, plus an additional seven prizes from restaurants and stores at Settlers Crossing. Additionally, Settlers Green is doing a Time Capsule Burial Project that is set to be buried on June 24 and unearthed in 13 years. To be a part of the project, contact Laura Lemieux at 603-356-7031 x100.
For more information about store opening dates, shopping hours and special events, visit settlersgreen.com or call 603-356-7031.
So much more to explore...
Immerse yourselves with arts, culture, delicious local flavor and a beautiful mountain setting. Settlers Green is an adventure the entire family will love!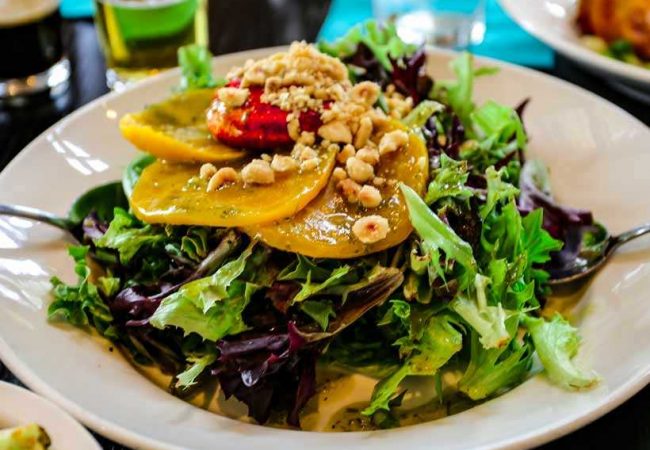 Taste
Savor delicious food and drinks from one-of-a-kind local menus.
Learn More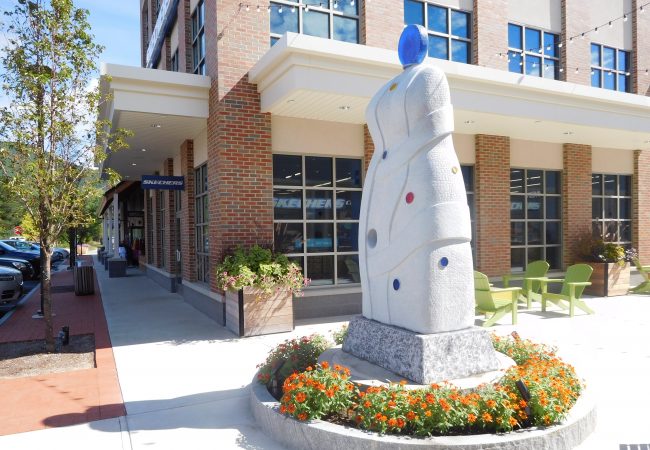 Culture
From public gardens and art, to a community labyrinth, there's so much to discover.
Learn More