Market Basket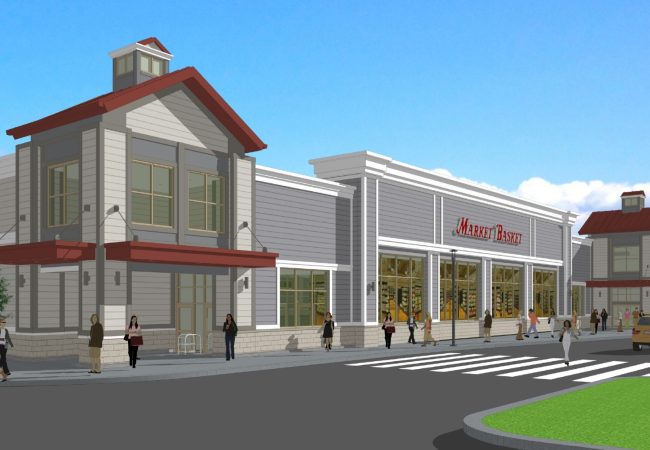 Back to Leasing
Market Basket
Construction on a 70,000 square foot Market Basket grocery store began in March 2022 and is set to be completed by Summer 2023. As part of Streetside Phase II, Market Basket will be located at 80 Barnes Road, just off of Route 16 in North Conway. Complete with a cafeteria for on-the-go dining, Market Basket prides itself of value shopping and getting "More For Your Dollar."
Site work includes a new road, Barnes Rd. Extension, and a roundabout on North-South Rd. at Common Court Connector. Long-time OVP Management Project Manager Roger Williams will oversee the construction project and is working closely with local general contractor Gordon T. Burke and Sons, civil engineer White Mountain Survey, and Cambridge, Mass.-based architectural firm of Prellwitz and Chilinski Associates, Inc.

OVP Management has been working to bring Market Basket to the North Conway community for many years. Market Basket is a family-run business that has been in operation for over 100 years. It was established in Lowell, Massachusetts, and has 79 stores throughout New England. Market Basket was named to 2020's Top 10 Best Supermarkets in America by Food & Wine Magazine. It is well-known for providing its employees an excellent work environment and delivering consistently low pricing to its shoppers.

Settlers Green Streetside Phase I was completed in 2017 as part of an expansion of Settlers Green Outlet Village, originally opened in 1988. Anchored by Polo Ralph Lauren and Columbia Sportswear, Streetside includes 11 tenants with a boulevard, Streetside Drive, that provides storefront parking for its stores. Streetside Drive and Barnes Rd. Extension will serve as the main entrances to Market Basket. The addition of Streetside Phase II will increase Settlers Green to 375,000 square feet of commercial retail development with an expected $125 million in annual sales.
Local Perspective
OVP Management, Inc. principal Rob Barsamian discusses the Market Basket project and how it affects the local community with the Conway Daily Sun's Publisher Mark Guerringue.
Construction Photos